October in Pinterest News
October has been a busy month for Pinners as Pinterest has made the news more than once with a bunch of new and exciting features. From adding a new way to explore similar, on-theme content to your saves, to rolling out a Community tab and updating their self-service Ad Center.
A new way to discover more ideas for your boards
Pinterest rolled out a new feature to help Pinners find similar or related content to the ideas they've already saved. The new feature is called "more ideas" and it appears as a tab, within your boards.


Communities are now in test for Pinterest users
This is Pinterest's way of adding a social media component to its current search engine experience.

The news that Pinterest rolled out the option to create communities has had us all squeak with excitement. And a bit of confusion. All through October, Pinterest has made this new feature available progressively and caused a bit of havoc as many Pinners were confused as to why haven't they got the feature already.
What exactly are communities on Pinterest?
Basically, this is Pinterest's way of adding a social media component to its current search engine experience.
It allows Pinners to create communities where a group of people care initiate conversations, share articles, pins and post links related to a specific topic.
Communities on Pinterest are similar to Facebook groups. And we've seen those skyrocketing in terms of engagement lately.
Once someone invites you to a community and you decide to join, the communities tab will automatically show up in the navigation bar of your Pinterest app on your mobile device or Pinterest.com on your computer.
If you want to create your own community on Pinterest, just go on you computer or app, and click "Create community". As a community owner you are in fact an admin and will have to moderate conversations and you know, engage your group of like-minded people. You can share the link to your community via other social networks, or even email, to get more people joining the conversation.
Learn more about creating communities on Pinterest here. Also, remember to read the Community guidelines before you create and post.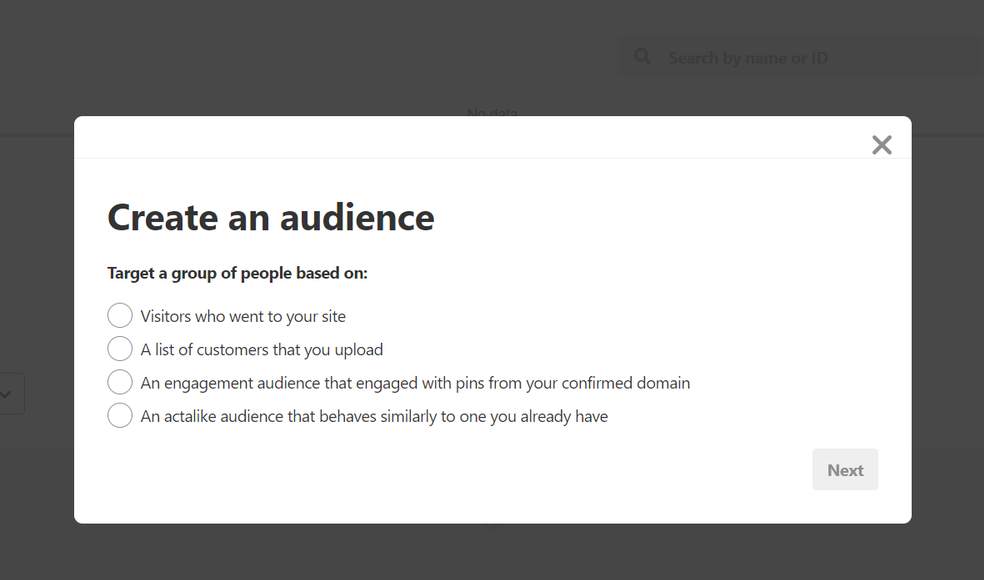 New tools for advertisers on Pinterest
Improvements to the campaign creation process, new targeting features, and advanced reporting capabilities.
Just ahead of the buzzing holiday shopping season, Pinterest launched a bunch of new features for its self-serve Ads Manager tool.
Pinterest says the refresh is meant "to make it simple for advertisers to reach Pinners" and it aims to do so by introducing their "most comprehensive suite of self-serve tools ever". So what does that mean exactly?
Through the new features, you can now better define and size audiences, create ads and pull reports.
Streamline ad campaign creation process
New feature to review your Pins before they go live through the option "pause campaign"

Ability to select and promote multiple Pins

New search bar and boards filter in the Ad Manager
Reach the right people with these new features
Choose where Pinners see your ads with placement options for separate browse and search strategies at the ad group level

Build robust targeting audiences with guidance from audience sizing and the Audience Insights tool

Get your brand in front of more people who are looking for what to try and buy next by leveraging our updated interests
Track your success on Pinterest
Monitor your ad performance and make in-line optimizations to multiple rows at once using the revamped reporting dashboard.

Identify and promote your top performing organic Pins using insights from Analytics

Measure your influence on Pinterest by tracking the monthly viewers number on your profile.
Learn more about the upgrade to Ad Manager here.
New features for Product Pins
Pinterest added dynamic pricing and stock information for Product Pins
In an attempt to make it easier for Pinners to find and purchase the products they want and need, Pinterest has rolled out two new features for Product Pins.
The aim is to improve conversions for brands, as well as, streamline the process of finding and purchasing desired products for Pinners.
"Today we're making hundreds of millions of Pins shoppable with up-to-date pricing and stock information, with links that go directly to the checkout page on the retailer's site where you can buy in a few clicks. Just look for the new shopping tag icon, and you'll know it's in stock."
Read more about the new features for Product Pins here.

Need help starting with Pinterest?
There are so many fun ways to integrate Pinterest in your content marketing. If you need help planning your strategy for Pinterest, I can show you how to make this new marketing channel work for your brand. Contact me here and let's talk.
Hi there! My name is Monica and I am a content marketing specialist who creates blog & Pinterest strategies to generate website traffic and leads.
To learn more about using Pinterest for your brand, read below: